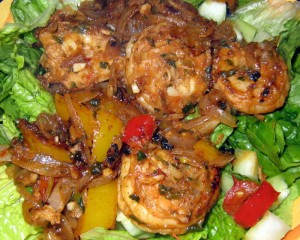 1 lb        shrimp, shelled & deveined
2 tbs     Seymour Rockin' Harissa
1 tbs      honey
1/3 c     fresh orange juice
1 tbs      ginger, fresh, chopped
1 tbs      garlic, fresh, chopped
1 m.       sweet onion
1 m.       red pepper
1 m.       yellow pepper
1 tbs      fresh mint
1 tbs      fresh basil
3 tbs Grape seed oil for cooking
1 head Butter lettuce, washed, chilled, and leaves torn
1 cucumber, deseeded & chopped
Whisk together Harissa, honey, orange juice, ginger, and garlic in a large bowl.  Stir in shrimp and set aside, marinate 5 to 10 minutes. Pour oil into a large wok or frying pan over high heat. Stir fry onions and peppers until tender, using a slotted spoon, remove and set aside.  Add shrimp to wok, cook 4 minutes, stirring occasionally. Fold in onion, peppers, and marinade liquid, continue stirring, for 2 minutes. Turn off heat. Toss in the fresh herbs. Plate on lettuce and cucumber salad.
Serves 4.