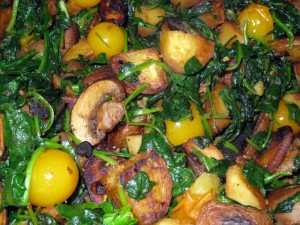 6 large cremini mushrooms, sliced
1 lb medium new potatoes, quartered
2 lbs fresh spinach, chopped
1 c yellow snack tomatoes
3 garlic cloves, sliced thin
2 1/2 tbs olive oil
1 ½ tbs Seymour Rockin' Harissa
1 tsp salt
Soften potatoes by cooking in the microwave covered with a damp paper towel for 4 minutes.  This will speed up cooking time considerably. Pour 1/2 a tbs spoon of olive oil in a large skillet, over medium heat; add mushrooms and sauté for 3 minutes.  Remove mushrooms and reserve. In the same skillet, add remaining olive oil and turn up heat, toss in potatoes, and fry 5 minutes stirring occasionally. Stir in garlic and cook for another minute.  Add mushrooms, tomatoes, and Harissa evenly coating vegetables. Cook 1 to 2 minutes and season with salt to taste. Gradually add spinach to mixture, as it wilts down add more. Serve as a main course or a side dish.